Club Affiliation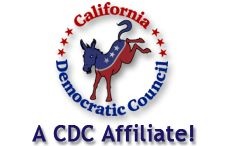 We are a proud affiliate of the San Bernardino County Democratic Party
and the California Democratic Party
One of 19 affiliates in the county!
In this section
Chino Valley Democratic Club Calendar
June 2018
M
T
W
T
F
S
S
« May
1
2
3
4
5
6
7
8
9
10
11
12
13
14
15
16
17
18
19
20
21
22
23
24
25
26
27
28
29
30
Upcoming Events
There are no upcoming events.
Contact Us
Please contact Marian Arguello President at chinovalleydems@gmail.com or Jim Gallagher ,Vice President, at kjgalla2@gmail.com for information regarding the Club or this website. Your comments and questions are appreciated.
We want you to join us at our next special monthly meeting on Monday May 14, 2018 at 7:00 pm!
JOIN YOUR NEIGHBOR PROGRESSIVES
OUR NEXT SPECIAL MONTHLY MEETING will be ON MONDAY May 14, 2018 AT 7:00 PM!
at  MiMi's Café, 3890 Grand Ave, Chino, CA 91708

We will highlight the choices for the June 5th primary election, host the Friends of State Senator Josh Newman against the recall, Gloria Negrete-Mcleod for 4th District Supervisor, and Ahmad Zahra who will share his experiences running for Fullerton City Council.

The Public is invited! Membership in the Chino Valley Democratic Club is open to all registered Democrats who support the principles and values of the Democratic Party.